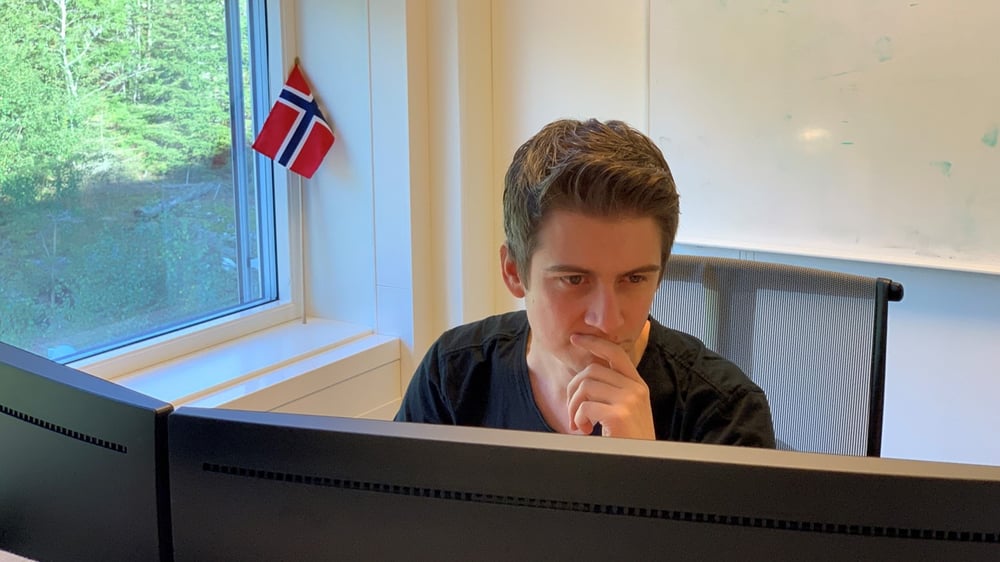 Some people really take their pride in doing a good job, and Quality Assurance Software Engineer, Brad Naus is an example of eSmart Systems' value foundation in practice. With a positive mindset, he always stands up and does his job in a fantastic way. In this interview, Brad tells about his work, and why he finds it inspiring to work in a company like eSmart Systems.
Can you tell us a bit about yourself?
I moved to Norway 5 years ago from my teenage home of the United Kingdom, however I am originally from Cape Town, South Africa. My British career focused on Quality Assurance and Release Management for Microsoft and their Games Test Organization which provided in-house support and testing for Microsoft Games Studios and their partners.

Out of the office, you'll find me taking in the beautiful Norwegian nature in one of the many forests that surround civilization and work life.
When did you join eSmart Systems, and what's your role in the company?
I moved to Norway in late 2014 and joined eSmart Systems in April 2015 at a time when the company consisted of 23 employees. I am a Quality Assurance Software Engineer and I am responsible for ensuring that developed code transforms to high quality, reliable, market leading products through detailed software testing methodology.

I oversee projects which cover a spectrum of supported platforms, from Mobile, Web and Desktop solutions, to more individual and tailored needs that eSmart Systems provides to its customers.

The most rewarding aspect of the job is to be involved in a project incredibly early on and see it progress through it's development cycle right up to the moment where it reaches acceptance from its intended user and is handed off for real world use, knowing that it will quite drastically improve the daily lives of those affected by our solutions from that moment on.
Read also: The eSmart Atmosphere
What inspires you to come in every day?

The hard work and passion of my team members. Regardless of my workload or the nature of the tasks I have, I know that every single member of my team, the rest of the eSmart family and our partners, are all putting in their all.

As one of the earliest members of the eSmart team, I've seen it through thick and thin. From the early stages as a Startup to the place on the world stage that it has now; a journey like that revealed to me the absolute strength and personal commitment of the men and women that make up eSmart Systems.

Once you know that everyone is working to their best, it is impossible to not remain motivated and inspired to keep working to do your best every single day.
Why did you choose eSmart Systems?
I discovered eSmart Systems when they made front page in the local newspaper in an article highlighting the prominence of IT companies in Halden, with eSmart Systems standing out among them (article equated them to aged champagne bottle that was ready to be uncorked, with the cork on the way out).

The article mentioned that eSmart, as a Startup company, would begin a large recruitment effort of 30 people. After some research in to the company and their leading edge products, the eSmart mission, their core values and ethics – I knew that I wanted to be a part of eSmart and to be there when the cork came out and the bang was heard all around the world with the ripples felt around the industry.

eSmart Systems aligned with everything I wanted from a IT company that I could invest my career in, and more. eSmart was working with state-of-the-art technology and partners, in the form of Machine Learning and Big Data and Microsoft Azure to drive analytics and prediction models in their then flagship product, Connected Grid. Connected Grid was visually and technically intensive, with many factors sharing similarities with video game development and testing; something I found I could relate to. In addition, the company had just started developing Mobile applications which for the most part was very similar to companion style apps that were commonplace in the gaming industry.

I did not know at the time what my colleagues in eSmart would be like, but in the last 4 years since joining eSmart Systems, I have come to learn that it is the people that make the company, and had I known this when I first discovered eSmart, this would have been the real incentive for applying.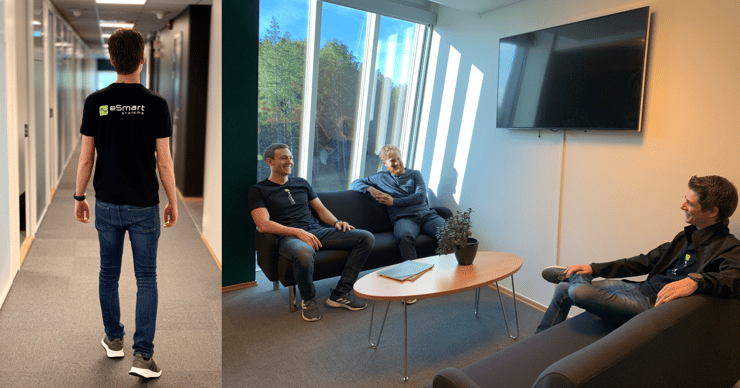 Do you have any tips you'd like to share with aspiring eSmarters?
If you're currently living abroad and reading this, don't hesitate, move to Norway, and settle in Halden, it is the next Silicon Valley for green tech companies with eSmart at forefront. All jokes aside, eSmart has a lot of competence from people living in Halden and the town is becoming quite reputable for its Smart City projects and green-energy based innovations, being led by companies based out of Halden. There is a mindset among the people living here, students and workers, to follow the example of these companies, their projects and their direction to work, live and think "Green".

As a eSmarter, it's incredibly important to be yourself, and as an applicant, apply honestly and share your passion for the aspects of eSmart Systems that attracted you to the company. eSmart Systems has matured immensely since I first joined, and the product range has advanced significantly, however there will always be an area that can be explored further and for your passion and expertise to reach and improve upon.

Regardless of your background or work experience, there will be an opportunity in your role at eSmart Systems to work to your full potential, and your fellow eSmarters will make sure you reach it.


eSmart Systems is always on the lookout for talented people. Click here to see our open positions, or send an open application.