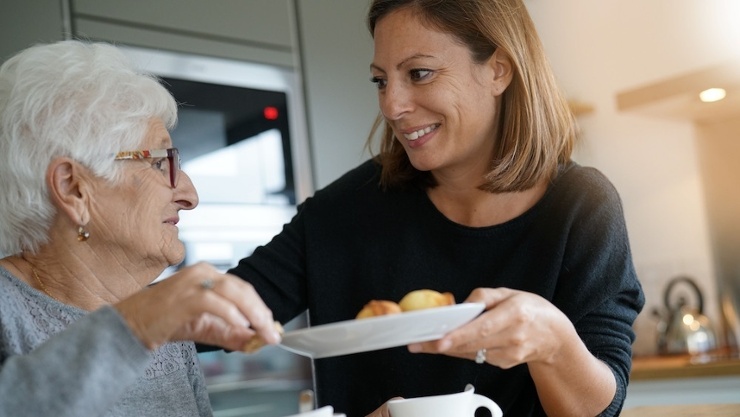 The relative number of senior citizens in Norway is rising, and many of them want to stay in their homes as long as possible. To ensure a sustainable future health care service and enough warm hands where they are needed the most, municipalities must reinvent themselves now. The solution might be closer than we think.
As I wrote in my article, Riding the Age Wave With Ai and Big Data, the need for qualified labor in the health sector will be a significant challenge. In just over forty years, the demand for specialist health workers is expected to rise by 260 percent over 2013.
A Socio-economic Good
That said, we know many relatives want to contribute to the daily care of their elderly, sick or disabled family members. Today, many receive care benefits for providing care that the public health care system would otherwise have done. This is undoubtedly a socio-economic benefit, which relieves the health care system by reducing the need for additional staff, the need for institutional beds, and lets patients who wish to, stay in their own home.
The amount of work invested in care is substantial. The number of people who contribute is hard to estimate, but according to Statistics Norway, 9 725 individuals received care benefits in 2015. A 2016 survey by Relatives' Alliance (Pårørendealliansen) of 3 217 relatives, shows that 86 percent don't receive any form of financial compensation. It also reveals that 9 of 10 are women and that 50% are full-time employees. 1 in 4 respondents reported giving care 30 hours per week or more.
In many municipalities, we find that local health services cooperate closely with relatives. I believe, however, there is still much to be gained by strengthening and further improving this cooperation – especially with regard to flow the information. We need to acknowledge relatives as the health care resource they are and build workflows and collaboration models that ensure a sensible work allocation based on how much relatives can and want to contribute.
Use Relatives or Volunteers Where Professional Expertise Isn't Required
Many of the tasks done by local home care units today don't require professional training. Giving injections or dosing out medicine must be done by licensed practical nurses, but practical help with food or personal hygiene can be provided by relatives. Relatives who are able and willing should, therefore, be given the opportunity to answer non-critical call-outs when nurses are far away and when the situation doesn't require professional expertise.
Relatives who want to work closely with local home care units can be equipped with technology to make them visible on an interactive response center map, along with other available healthcare workers. On-duty staff can then easily assign tasks to relatives or alerts can be automatically sent if response centers have intelligent functionality and patients are equipped with smart technology. In this way, the burden on both relatives and the healthcare system can be significantly lightened. Examples inlcude:
Alarms triggered by patients or sensors if, for example, hot water has been running for a while or a door is left open
Tablets with easy-to-use video and audio chat features, enabling patients and their relatives to see and talk with each other to solve problems without having to turn out
If a municipal response center detects that a tap has been running unusually long at the home of a patient suffering from dementia, but no other alarms have been triggered, it is probably not necessary to send a nurse. If the interactive map shows that a relative or volunteer is close by, the person on duty can simply assign the task to them through an app or a text message.
Include Relatives and Volunteers in the Information Flow
Our recommendation is to include relatives in the information flow, regardless of whether or not they are providing care. The flow of information can be digitalized, streamlined and automatically distributed to relevant stakeholders – representing tremendous quality and efficiency gains. Often, when critical situations occur, health workers don't have the time and opportunity to notify relatives by phone.
Imagine that your spouse, mother or grandfather suffers an indisposition and is sent to hospital by ambulance. Now compare the feeling of receiving an automated notification on your smartphone while your loved one is on their way by ambulance, to the feeling of receiving a call several hours later. Imagine the benefit of arriving at the hospital at the same time as the ambulance, and being able to provide the health care workers with the information they need to best treat your loved one. When information flows to the right people at the right time, it provides for better health services for you and me as recipients of health care services and as relatives.
There are evident gains for the public health care system in coordinating the efforts of healthcare professionals and relatives through a smart response center. The technology and the solutions are available and are already in use. If you have questions or comments, I'd love to hear from you in the comments below.