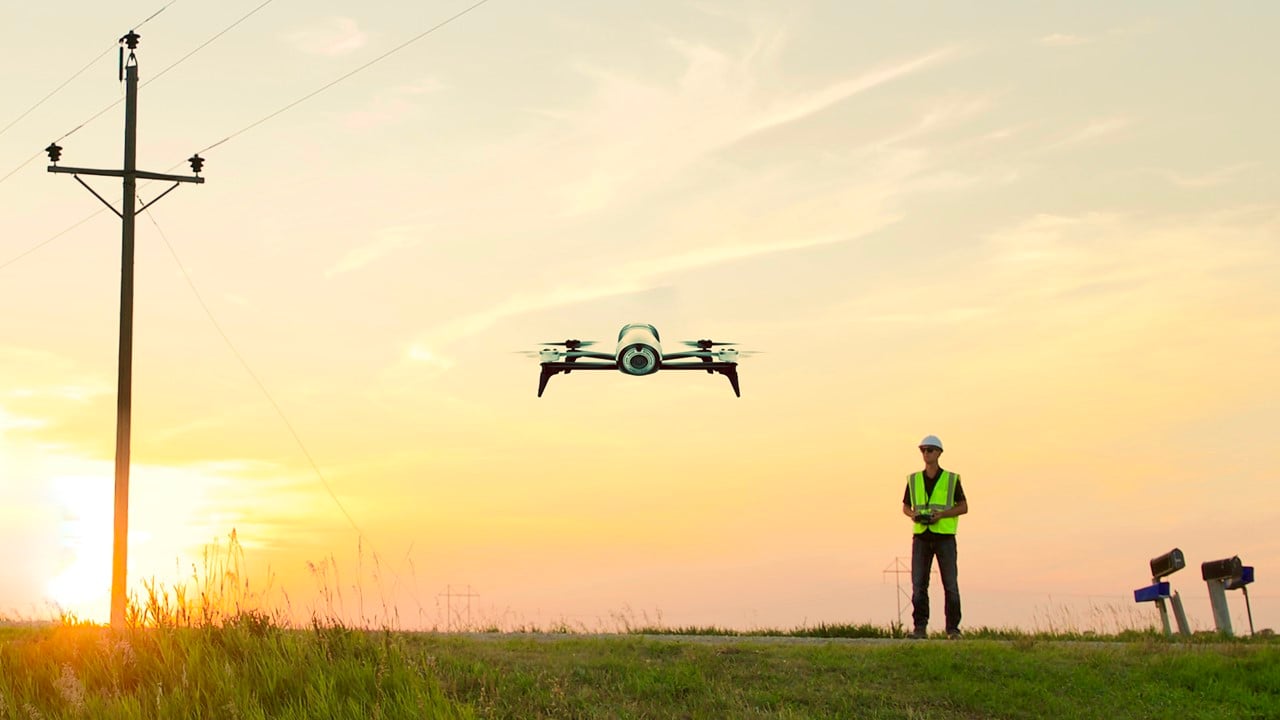 Until now, power line inspections have been manual processes. Deploying drones coupled with intelligent analytics, however, can dramatically streamline routine inspections, increase emergency responsiveness and decrease power outage times. Intelligent drones offer radically new insights into grid operations.
Picture this:
One January night, a small utility's power outage alarm sounds. With a heavy snowfall and howling winds, concerned customers reporting that their power is out occupies phone lines. The on-duty inspector calls his colleagues and gathers a team of five. Strong winds prohibit helicopter use. Five inspectors get in a truck and head out to where outages were reported. The snowstorm is so severe and the terrain so challenging that search and repair operations are too risky. The crew is forced to return. It's not until late afternoon the next day that they're able to access the area, remove a fallen tree and repair the line. Outage time was about 24 hours.
Although this situation could have escalated further, it's symptomatic of a system that is far from optimal, and which creates worry and unnecessary risk, delays, and costs. A member of the crew was on sick leave for six weeks with a broken leg, the customers on the phone had gone from worried to dissatisfied before power was back, and costs were skyrocketing.
The utility company decides it's time for a change; something has to be done to improve the efficiency and safety of power line inspections, better ensure preparedness under challenging weather conditions, and better manage regular maintenance inspections. They invest in an end-to-end intelligent drone system, and the next time a customer reports that their power is out, this is what happens:

An operator drives out to the damaged area, releases a drone and gets access to real-time photos of the grid. Even when it's windy with heavy snowfalls, the drone can carry out its inspections. It can operate based on a set route that can be changed and adjusted along the way. With the help of sensor and analysis technology specially developed and customized to this task, inspectors have an overview of damaged grid components on a screen inside their truck. This prompt utilization of gathered data saves a considerable amount of time compared to waiting for helicopter inspection feedback.
Based on the drone data, the system creates work orders, which can either be initiated or passed on to an inspector closer to where repairs are needed. In other words: no physical hazards, shorter downtimes, fewer unhappy customers and more time and cost-effective line inspections.
Read also our guide: All You Need to Know About Power Line Inspections With the Use of Drones.
If we pair drones swith artificial intelligence, sensors, and tools for analysis that can convert gathered data into useful information in real-time, it's not difficult to see how they will play a crucial role in efficient grid operations. It's important to underscore that drones are not here to replace manual labor. Inspectors and their crews are still needed for management, repairs and maintenance work, but with an intelligent drone, they get a hard-working, smart assistant.