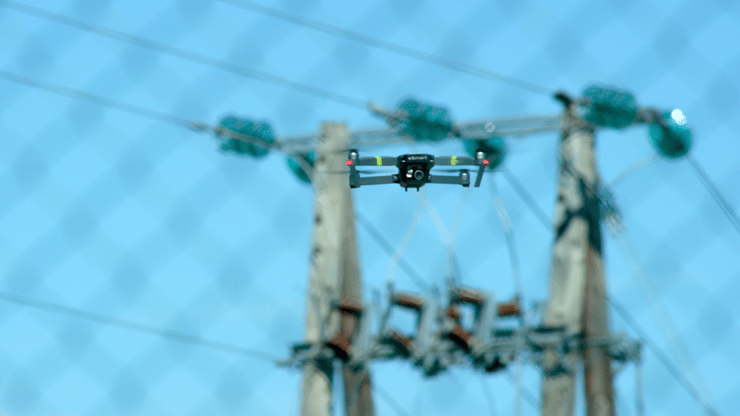 Extreme weather is a threat to power grids worldwide. As extreme weather threats are increasing, drone size is decreasing. Along with shrinking drone size, however, comes increasing opportunities to improve power outage management and streamline power line inspections. Today, utilities are deploying backpack-sized drones with communication and artificial intelligence capabilities as their eyes in the field.
Drones are rapidly becoming commonplace in the energy sector. Utilities are using drones to inspect power lines, cutting both time and costs compared to traditional on-foot or helicopter inspections. General Electric, in collaboration with various utilities, began using fixed-wing drones to inspect power lines in the US and abroad in 2015, an Illinois-based utility initiated a drone program to improve power outage response times in 2017, and drones were critical to restoring electricity after hurricane Maria hit Puerto Rico in 2018.
But drone technology is continually evolving. Today, drones are flying into a wider ecosystem of Asset Performance Management (APM) strategies, Big Data analytics, artificial intelligence (AI) capabilities, and communication and sensor technology – truly unleashing the power of end-to-end drone operations in power line inspections and providing utilities with a comprehensive, revolutionary and efficient toolset for power outage management.
Simultaneously, drone technology is getting smaller. Practical backpack-sized drones can be implemented within the same ecosystem to ease and improve visual inspection methods and become a powerful assistant for maintenance workers and operation technicians in grid fault and malfunction location.
Eyes in the Field
Imagine this. It's winter. Heavy wind and snow have ravaged the landscape, knocked down trees over power lines, ripping out isolators and cutting power to thousands of households. To restore power, a grid technician drives out to the affected area armed with a tablet, a GPS and a backpack to locate the fault. His map is marked with the approximate point of failure.
On location, the technician stands at a crossroads. Following the roads, the power lines separate and run in different directions. Looking at his map, the technician sees the location of the potential power grid fracture but lacks information on exactly which power line is affected.
From his backpack, the technician pulls out a drone. Connecting his smart phone to the drone's remote control, he dispatches it along the first power line. Through his smart phone, the technician can both control the drone and visualize route maps and power line stretches. The drone flies out to search for and identify faults, automatically following marked power line stretches. When it reaches its maximum distance, it safely returns to its starting point.
Finding no faults on the first power line stretch, the technician sends the drone along the second power line. This time, the drone identifies a fallen tree over the power lines. The drone automatically maps the location and zooms in to get a more detailed picture of the fault. Via a data link and mobile connection, the drone streams data directly back to the operations center enabling quick technical support. In a short time, backup assistance is on route to repair the fault.
Small-Scale End-to-End Solutions for Drone Operations
Although the above story is fictional, the concept is not. Pre-configured backpack-sized drones, smartphone applications for remote drone control, and intelligent communications capabilities are available, creating fantastic new opportunities :
Increased emergency preparedness: Easy-to-use, practical drone technology increases utility emergency preparedness capabilities and unlocks better, faster, and safer power outage troubleshooting methods for grid operators and technicians.
Regular visual inspection improvements: Backpack-sized drones are suitable for regular power line control and top control. Additional intelligent software automatically documents inspection findings, removes the need for time-consuming and manual data uploads, and identifies components and grid malfunctions.
Reduced power outage costs: According to PwC, the power and utilities sector loses $169 billion every year due to energy network failures and forced shutdowns. Small-scale end-to-end solutions for drone operations increases response time, enabling faster repair of infrastructure failure and lower outage costs.
Field crew and operations center synergy: Drone-collected images can be made available in the associated software automatically. Data is geo-tagged, analyzed, and related to the utility assets it belongs to. Through this, the field crew and the operations center can access the same analyzed data within seconds.
Read also our guide: All You Need to Know About Power Line Inspections with the Use of Drones.
Thundercloud Lite is a small-scale, end-to-end solution for drone operations in power line inspections. Consisting of a backpack, a small drone and an application for remote control via smartphones, Thundercloud Lite is a powerful new assistant for power line inspections helping maintenance workers and operation technicians to efficiently find grid faults and malfunctions.